Asset Inspection and Maintenance (AIM)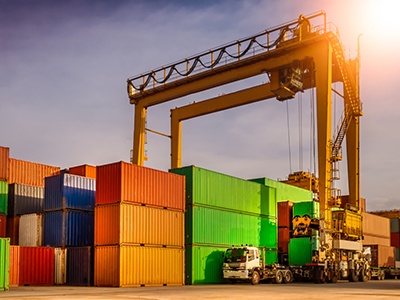 Buckeye Mountain's Asset Inspection and Maintenance (AIM) system facilitates scheduled and unscheduled maintenance and inspection of intermodal lift and ramp equipment. An overview view of system-wide equipment status, coupled with real time dashboards, downtime forecasting, guided equipment inspections and complete estimate/work order management capability, provides top-to-bottom control of mission-critical assets. Detailed data collection along the way means powerful reporting of unit and system-wide KPIs is at your fingertips. The result is fewer surprises, decreased downtimes, and more efficient utilization.
With an ever-expanding complement of sensor-based and GPS data gathering capabilities, AIM can help you track not only the status of your equipment, but its configuration, movement and health – all in real time. Lifting and coupling actions, speed and braking, location and movement history and other valuable data becomes visible as you fine-tune your fleet's efficiency.
When inspections come due, tablet-based, guided inspections ensure that the work is done to spec and no detail missed. Likewise, maintenance estimates and work orders may be managed from the shop floor, complete with photographs of damage and corrective repairs, and an approval workflow that guides you and your vendors quickly from estimate to repair, and back into service.
Web-based System Dashboard and Admin Tools
System-wide equipment status dashboard
Downtime forecasting and measurement
Equipment list and activity overview
Administrative control screens
Mobile Unit Inspections
Periodic unit inspections on a mobile platform
Preformatted or autonomous inspection workflow
Attach images to inspection results
Initiate repair work orders from inspection results
Mobile Repair Work Orders
Utilizes predefined repair job code
Record part numbers, labor and material pricing
Estimate and approval workflow
Post repair audit workflow
Integrate with your AP invoicing system
Reporting and Telematics Data Integration
Improve uptime efficiency and minimize downtime
Record and monitor unit location, status and sensor data
Report on key utilization, inspection and repair data elements
Perform advanced data mining via an ad hoc query tool
Integrate with a Terminal Operating System