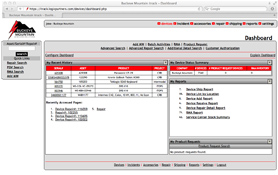 iTrack gives you the ability to oversee the thousands of dollars worth of information technology hardware owned by your railroad right from your computer. Developed specifically to manage railroad hardware logistics, iTrack automates and simplifies the deployment of large numbers of computer and communication hardware to multiple locations. Then this web-based software solution does exactly what its name implies. It tracks where and when that technology hardware in your organization is being used. Think of it as a hardware life cycle management system that manages and provides visibility to every element of your hardware's life, wherever it is located.
The information iTrack provides is priceless in terms of auditing and detailing downtime, uptime, repairs, repair history and repair costs. It allows your railway operation to manage return material authorizations (RMAs) and the repair of defective hardware. Rely on iTrack to provide complete visibility to all field-deployed devices including computers, tablets, accessories, antennas, batteries and styluses. This easy-to-use web-based software solution provides a very accurate view of how the assets your company owns are being used.
With iTrack, your company can track its own hardware inventory or Buckeye Mountain can manage the tracking for you. Either way, you are assured of being informed of the status of all computer and communication hardware owned by your company at any point in time. And because iTrack is easily updated, it will meet your needs whenever you add or subtract hardware.
iTrack Highlights:
Manages and tracks location of computer hardware, mobile devices and related components by project, serial number and asset tag number
Provides visibility to repairs in the field and every aspect of hardware life, wherever it is located
Details repair history and abuse
Estimates repair costs
Audits repair and uptime